Styling Your Home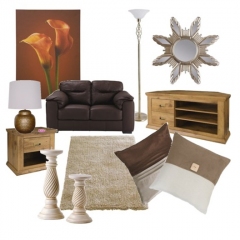 Don't be in a hurry and don't be embarrassed if your house or apartment is filled with empty space for a while. Take your time. I know this is hard for many people who are used to being organized and getting to end results quickly in other areas of their lives. But if you take the time to get necessary information, you'll be able to figure out what you need and like. In this way you'll be a lot more successful in creating the look and feel that will please you, especially if you don't yet know what that is. You'll save a lot of money, too.
Style is a combination of the way you live and the way you furnish your home. Bringing the two into accord is the trick and, when done well, will result in a home that is a pleasure to look at and live in. What you end up with is an environment that makes you feel good.
I'm often asked, "What's the current, most popular, decorating style?" Following decorating trends can be dangerous. Styles go in and out of fashion, but what you should strive for is a home that has a timeless look. One shouldn't be able to tell if your home was decorated in the 1930s or the 1990s. Homes furnished with an eclectic mix of carefully selected things are usually the most interesting.
I spoke to several of my friends who are editors at decorating magazines about the future of interior design. All agree that style comes from the ability to combine old and new, traditional and modern, and cost is never a factor. One can be as proud of great farmhouse kitchen chairs found at a yard sale and repainted as of a wonderful Italian chair bought at a New York City auction house. In fact, a careful shopper can always spot a well-designed item at a discount outlet and know how to use it. In the end, what something costs is less important than how great it looks with everything else in the room. What matters is the overall effect.
Whimsy is always appreciated and a sense of humor should be displayed somewhere. The element of surprise gives a room interest. For example, using something in an unexpected way, or hanging a picture where you wouldn't expect it, is one way to introduce this aspect into your home.
When deciding what to buy, you'll be asking yourself if it will add pleasure to your life. If you think it will just collect dust and won't make you happy to look at it, don't buy it. The main theme of decorating for today is carefree, elegant and a little spare. Clutter isn't conducive to today's style of living.
This article was written by admin