Space-Stretching Techniques for Your Bathrooms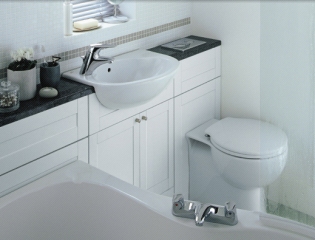 Most of us complain that we don't have enough space in the bathroom. The first thing you want to do is make the room seem streamlined. This means simple decorating.
1. Walls: White paint makes any room look larger and brighter. Mirror tiles on one wall are practical and room enlarging.
2. Windows: Fabric shades, such as the Duettes from Hunter Douglas, or miniblinds will give the window a sleek look. Wood shutters or louvered shutters achieve the same effect and offer flexibility for adjusting light and air circulation.
3. Find an area above the toilet or above the window where you can hang a deep shelf to hold towels.
4. Use a small wire cart with shelves (available in home centers) for holding bathroom essentials.
5. Roll towels into a basket and place it under the sink. Use a basket on the tub ledge to hold shampoo and body lotions. Or hang flat-back letter baskets or bicycle baskets on the wall to hold things.
6. A narrow ledge around the tub area can be used to hold bath supplies as well as small plants.
7. Mount a swing-arm lamp on each side of the sink if you need more lighting.
8. Use the back of the toilet to hold a basket filled with pretty soaps. If you add a shelf over the toilet be sure there is ample room to remove the water tank if necessary.
9. If there's room for a small piece of furniture, such as a little bureau, end table or plant stand, such an item adds character and convenience.
10. I use wooden dowels that I stained and mounted with brass holders along two wall expanses for hanging towels.
11. Look for interesting shelving units or cabinets at yard sales for hanging in small wall areas. They can add storage and look good.
12. Add a strip of Shaker pegs (they come unfinished in different lengths at home centers) along a wall for hanging bathrobes and towels. Large brass or porcelain hooks mounted to the wall will do the same. Look for space on a narrow wall that might be found between the shower and door frame, for example. Hang a large hook to hold a bathrobe or towel.
13. I installed a shelf between two walls above the baseboard next to the toilet. There was just enough space to accommodate an 8-inch-deep board, and it holds a basket of magazines and several ceramic containers of hand cream, shampoo and other toiletries.
14. A friend of mine uses a scrubbed pine armoire for holding towels and bathroom essentials. She doesn't have a medicine cabinet or any other storage unit, but the armoire, which is tall but shallow in depth, fits between the tub and the wall and holds it all. If you don't have room for a large piece of furniture, narrow bookshelves might do the trick.
15. Freestanding towel holders or quilt racks are excellent for holding different-size towels and washcloths in a bathroom where there is limited wall space for hanging adequate towel racks.
16. A small washstand is perfect for holding towels on the shelf below, as well as containers for makeup, brushes and a free-standing magnifying mirror. If possible, mount a towel bar or ring on one side.
17. It's easy to be creative with containers. I use a silver baby cup to hold cotton swabs, a votive candle holder for makeup brushes, a pretty sugar bowl for odds and ends, a small basket for brush and comb, and a ceramic crock to hold the hair dryer. Look around for unusual vases, terra-cotta planters or mugs that can be used to organize and assemble bathroom essentials right where you need them.
This article was written by admin