New Ideas for Decorating an Old Bathroom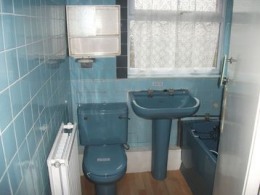 Bathrooms can be wonderful little environments, created with just a few elements. You can do wonders with paint, wallpaper, fabric, floor covering and accessories. The bathroom is the one space you can transform with a little ingenuity.
A couple of years ago my husband and I took a plain, uninteresting powder room in a condominium and transformed it for a decorating magazine. The toilet and sink were plain white porcelain and the floor was covered with gray linoleum. The walls were painted light gray, and there was a large and obvious crack in the wall facing the door. The first thing we did was repair the crack with a putty knife and spackle. This takes minutes. Once the spackle dries, you simply sand it smooth.
Faux Finish for Walls
We then chose a light coral, semigloss latex paint to give the room a soft glow. Semigloss or glossy paint is better than flat latex paint for bathrooms because it is more durable and scrubbable. Once the first coat of paint was dry, we mixed the same color paint with a medium-tone glaze. Premixed transparent glazes come in light, medium and dark shades and are available in home centers. Mixing the glaze with paint in just the right proportions is easy to do by following the directions on the can. Using a natural sponge and the glaze mixture, we sponge-painted the walls to give them an overall texture. By mixing the glaze with the same color as the background, the sponging effect is very subtle and the walls become translucent, which gives them depth.
For the Finale
Self-sticking vinyl tile squares in a coral color were easy to install right over the linoleum floor. We painted a narrow shelving unit, found in a thrift shop, deep green. This was placed against the wall between the toilet and sink to hold small plants, collectibles, folded guest towels and a ceramic dish filled with soaps. The finishing touch was a colorful painting by the homeowner that we hung on the wall where the crack used to be, just over the shelving unit.
An old-fashioned, ornately framed oval mirror (found in a seconds shop) fit on the wall over the sink, flanked by inexpensive, half-round wall lighting fixtures. We put a large, handcrafted clay pot with a flowering plant on the floor in a dead corner between the sink pedestal and the wall and filled a basket with multicolored hand towels to place on the back of the toilet. A wicker wastebasket was all that was needed to complete the simple but tastefully decorated room, which cost very little to make over.
This article was written by admin